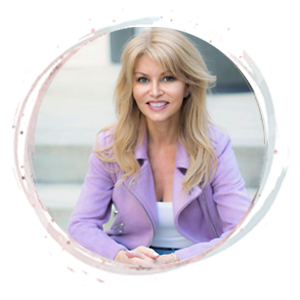 For same day or last minute coaching call or text first and I'll get back to you right away!
(310) 933-3993
RATES:
$80 per 60 minute
$45 per 30 minute
for phone or video sessions
Coaching for an actor is an absolute game changer! It can mean the difference between booking the job or not. There are multiple layers to an audition or self-tape that go way beyond knowing your lines, eye-lines and camera angles.
I have been fortunate enough to study the art of acting with some of the top acting coaches in the world, including being in the very last Master Class with the incredible Uta Hagen, training in The Method, Mesiner, performing live improv with Second City and years of audition techniques, spoken-level voice training (life changing!) and breath work. This is all rounded out with a degree in behavioral psychology that gives me very unique insight into the underpinnings of characters. All of this has allowed me to be a working actor most of my life including commercials, hosting, modeling, print work and a very lucrative voiceover career.
Let me help you prepare and perform like a seasoned professional. I'll share the little known tips and tricks I've learned from the very best in the biz.
Coaching Sessions are most often done via video conference. This is perfect for last minute audition coaching and self tapes, or if you're not in LA. And if you are a Los Angelino, you'll appreciate the time you save in driving and parking!
*In person sessions are available as well.
---

Audition Coaching & Self Taping
I love helping actors nail their auditions! And today with so many self-tapes it is absolutely essential. I have been coaching actors to book roles, record demos, win awards and ace agent interviews since 2007. Whether you have a big audition, a class or meeting with a casting director or just want to master auditions, I can help you refine the process and hone your skills so that you are always performing at your creative best.
In very quick bursts we get into the psychology of the character and intertwine that with technical expertise so your audition is always in your body and never in your head. This leaves you free to play, lines come more easily, and you get to express the unique creativity that only you can bring into any room. Coaching is always fun and we maintain that sense of play and enthusiasm that makes you magnetic in your auditions.
Dialect Reduction
This is one of my absolute passions! Did you know that "regionally specific dialects" change approximately every 20 miles? Part of my vocal training included a deep dive into dialects or accents, how to master them and how to lose them. This is so much easier than you may think! It's all about small modifications, mostly in the mouth and jaw that can completely change the way you sound. How many sessions you need really depends on how much work you're willing to put in between sessions. I can give you the keys, but this is really a case of practice makes perfect. If you find you're not booking because of your accent, let me help you master "LA speak" otherwise known as the "non-regionally specific U.S. dialect".
Voice Overs
Voiceovers is a highly specialized area of the industry. For more about VO Training & Coaching click here.
Life & Career coaching
Life & Career Coaching click here.
* Be sure to ask about a special rate for actors
---
Coaching Session Rates
* Sessions are done via Skype, FaceTime or online video conferencing unless other arrangements have been made.
buy now
30 min Session – Buy NOW 3 x 30 min Sessions – Buy NOW
buy now
60 min Session – Buy NOW 3 x 60 min Sessions – Buy NOW
---
Next Steps
Once you have made a payment you will be given immediate access to my online calendar to book your session and detailed instructions for the next steps, how sessions work, direct contact information and instructions for uploading your sides.
Cancelation policy
Should you decide to cancel your session with more than 8 hours notice, a full refund is provided no questions asked! Where there is less than 8 hours cancellation notice, full session rate applies. This is just part of being accountable

---
What Others Are Saying
"Working one-to-one with Hunter was a liberating experience! She was insightful, knowledgeable, perceptive, and really stretched me past what I had thought I was capable of, all while keeping the work fun and inspiring. Hunter provides a fearless, creative, supportive and adventurous environment to grow your talent in. I highly recommend working with her." – Jerry Bannister, Actor

"Oh the clarity! Hunter is a gifted coach. Her insight, techniques and ease is incredible. Upon leaving my session I cracked open all the tools I feel I need to make my dreams come true, and my life a success. I highly recommend this service to anyone who is looking to further and brighten their life. Thank you Hunter!! " – Joey Bothwell, Actress, Dancer

from WeRehearse.com / WeAudition.com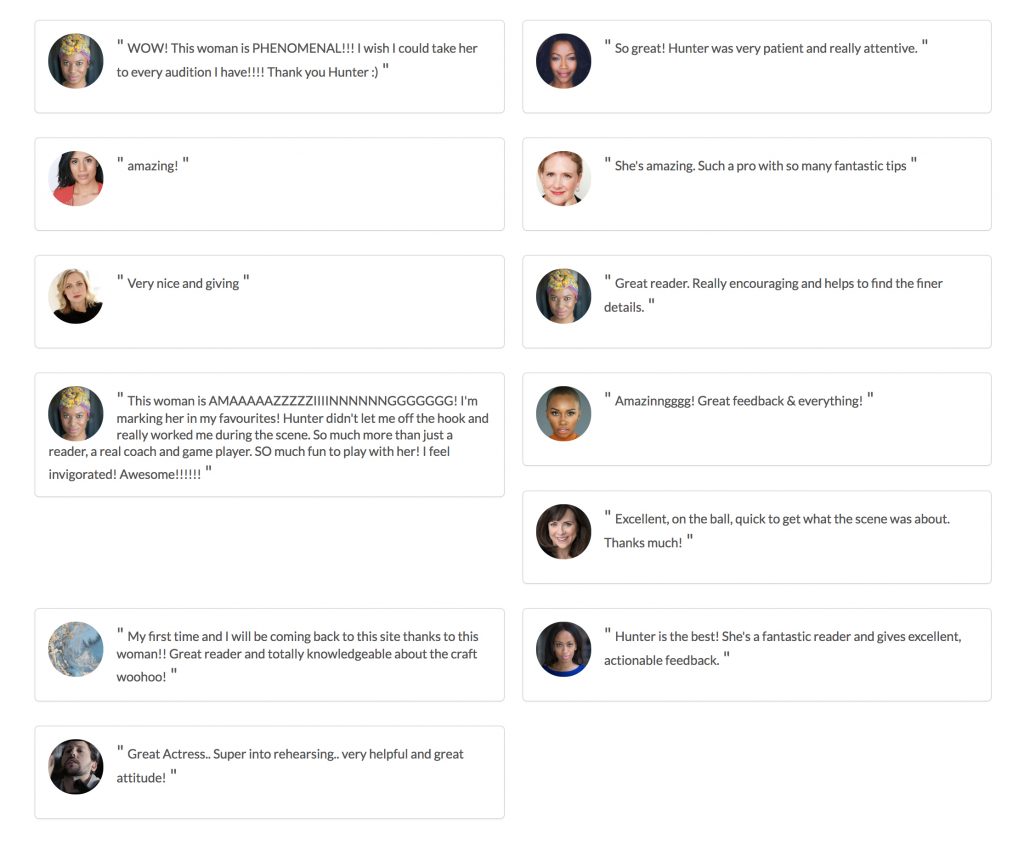 ---
Have A Question
---